Inspired by reading Unlocking the Clubhouse: Women in Computing, I'm telling the story of how I got into science & technology. Today's piece of the story goes through high school. See
Part One
and Part Two.
In the first couple years of high school I took the expected advanced math and science track -- the next classes in sequence. Algebra II, Advanced Biology, Pre-Calculus, Advanced Chemistry, AP Calculus, Advanced Physics. My math teachers were great, and my biology teacher was pretty good too. My chemistry teacher was completely terrible and I got nothing out of that class. My pre-calc teacher was also the AP Computer Science teacher, and sometimes the kids in that class would be working at the computers during our math class, or chatting with him before or after our class. He talked to them like equals -- they all seemed to be experts already -- and I remember them
all
being guys.
At least one of the group of boys from my fourth-grade class was in AP Computer Science in high school. I heard stories that he had figured out how to solve a programming contest problem in a single line of code, and that one day in class he'd gotten bored and written his own programming language. I heard my friends talking about all the various programming languages they knew, and just felt intimidated. When I thought of a programming language, I vaguely envisioned something like machine language -- something really arcane, really obscure, that you had to be a particular kind of genius to grok. Like you had to be able to directly read the 1's and 0's or something. I hadn't seen any code since those snippets of BASIC back in elementary school, and I had found that pretty obscure and arcane then -- so all this more complicated stuff must be incredibly arcane.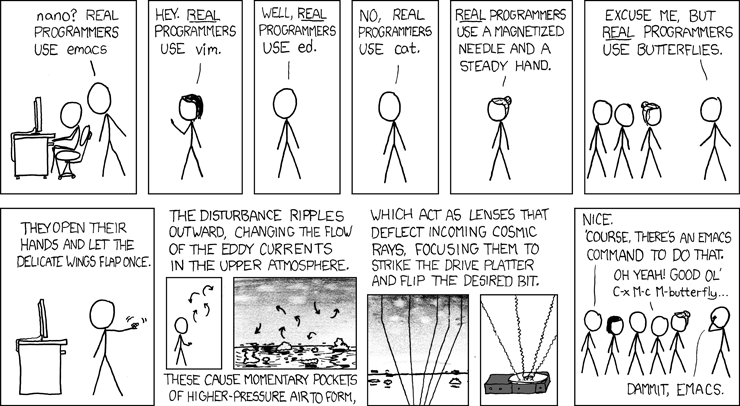 I had a boyfriend in high school who told me that once you learn one programming language, the rest are easy. I believed him, but I had no idea how to go about learning my first language. It kind of seemed like you just had to know already. I had no idea how he, or any of the guys in CS classes, had gotten started. I heard him talking about C++ with his friends, discussing how pointers could cause the whole machine to crash. I knew pointers had something to do with memory; I formed the vague impression that you had to manually assign memory addresses when you coded in C++. That just sounded painful to me.
Throughout high school, when I wasn't doing homework, reading, or writing, my priority was communicating with my friends. Like all teenagers since the phone was invented, I spent a lot of time on the phone (landline back then!) -- but I also used the computer to talk to my friends, by email and instant messages. I learned to touch-type at age 15 because I started IMing, and suddenly I was spending hours typing, and trying to type as fast as I could because it was so important to communicate my thoughts. That much intense practice will teach you to touch-type very fast.
Meanwhile, I was on fire for ideas in the form of literature and philosophy. I read and wrote endlessly, blowing my English classes out of the water. I definitely took the lead in those classes. That was where I could be a star. I got compliments from all my teachers and near-perfect grades. It all came to me so naturally. I felt like that was where I belonged: in the world of words and ideas expressed in words.
My high school was full of very, very smart, talented kids. In my social circle, you got status for being a genius at something academic or artistic. The more you knew or the better you were at something, the more respected you were. I found out pretty quickly that I wasn't a massively gifted actor, and while I could sing, I had practically zero musical training -- so I wasn't among the top musicians. But I
destroyed
when it came to writing. That was the source of my status. Taking advanced math and science courses was just the expected baseline among my friends; it didn't make me particularly smart or special.
Not
taking those courses would have marked me as probably not very smart.
I would have had to start at the raw beginning with programming, and I would have been ashamed not to be "advanced" at something. I definitely had the sense that if I couldn't instantly excel at something, I shouldn't embarrass myself by trying. It would take away from my value as a smart person who succeeded at things. Especially since many of the guys in my social circle were very advanced and experienced when it came to programming -- I would be compared to them, and end up looking like a wannabe.
Particularly, I'd be compared to my boyfriend. I was already the "student" to his "expert" in so many things -- building PCs, playing computer games. I was already subordinating most of my opinions, thoughts, philosophies, to his; he was confident, assertive, and forceful about what he thought, and I wanted to be the person he wanted me to be, to prove that I was his perfect match. But part of being that person was showing how smart and competent I was (like a Heinlein heroine). Programming would have been something where he always had the answers and I was dependent on him for guidance. I was uncomfortable with that idea.
Then, in my senior year, I took AP Physics. I'd already had a year of calculus with an absolutely fantastic teacher, who made everything intuitive and clear. And the AP Physics teacher was just as fantastic -- explaining the physical meaning of every piece of math we did. All of a sudden, I understood how you could use math to break down, understand, and predict how things behaved in real life. That
did
light up my imagination.
Physics made me feel like everything suddenly made sense. Like I never had to feel confused and frustrated again; I could start from simple first principles, rules everything in the world followed, and figure out exactly what was happening. It gave me the same sense of calm clarity as writing a sonnet. When I wrote a sonnet, I was able to put a big, nebulous, subtle, emotional concept into a simply structured form -- figure out how to state its essence in sixteen rhyming lines of ten syllables each. When I solved a physics problem, I was able to take a non-intuitive phenomenon that seemed totally unpredictable, and figure out the simple structure of rules governing it. It gave me control over a world that seemed overwhelming sometimes.
And it seemed to really impress people that I enjoyed and was good at physics. I got a rush from that. It made me feel like the academically successful, intellectually impressive person I was supposed to be -- even though sometimes I had to struggle to understand something in physics, and didn't feel like I was a natural genius at it compared to a couple of the guys in the class. Just
studying
it seemed to give me intellectual status; I didn't have to be the star pupil to feel like I was doing well.
Even in that fantastic physics class, we occasionally used computers, but only to employ an application someone else had already written. Everything in my life just involved
using
computers. I had no experience with programming them, nor any real idea why you would want or need to. It seemed to be a hobby for some people, like making model airplanes. Guys in my physics class programmed little games on their graphing calculators; my boyfriend made an animated birthday card for me in Visual Basic. But I didn't connect these things with the tools I used on the computer -- word processors, spreadsheets, web browsers, instant messaging.
I was a very knowledgeable user of Windows -- I knew where everything was, what settings usually needed changing, how to accomplish various tasks, how to fix common problems. But I was a user, not a maker. I wanted to write a story or talk with my friends, and I just wanted those tools to be there. I didn't want to make them myself. It seemed like reinventing the wheel for no reason.
To be continued…